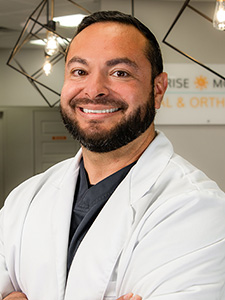 While growing up, my dental visits were usually for emergencies only. We never had the opportunity to see the dentist on a regular basis. I remember chipping my front teeth on my BMX handlebars and became so self-conscious of the chips that had formed from this accident. My mother was able to take a fingernail file and even out the chips the best she could and even that made me feel better about my smile. While in high school, my brother and I were wrestling and his elbow hit me in the mouth knocking my front tooth almost all the way out. During the next two weeks we realized I needed to go to the dentist as it was now an emergency since the tooth kept my bite from coming together. I was not able to eat or talk properly during this time. When we did finally visit the dental office, my tooth was too expensive to fix and had to be extracted due to cost. This was devastating to me and I was so embarrassed having to go to high school without this ONE tooth. The insecurities from the missing tooth weighed heavily on my confidence. I remember not wanting to smile or even hold a conversation in fear that someone would notice and judge negatively.
My mom finally saved up enough to get me an acrylic flipper to fill in the space. My confidence grew and grew to the point where I was finally able to smile freely again. From these experiences, I knew I wanted to help others gain some confidence where they lost it due to their own dental health issues. I knew the benefits that came with improving this one small area of the body and how important it was to overall physical and mental health.
My mission as a dentist is to provide a detailed, comprehensive examination in order to find opportunities to bring the patient into health, improve confidence, and to provide a beautiful smile. My main objective is to make a difference in patients' lives by offering them an opportunity to be active in their treatment decision process, educating them as to how they can maintain a healthy smile, and help patients maintain not only a healthy mouth but overall mental and physical health.
I grew up in the Phoenix, Arizona, area then moved to Central Utah. I attended Utah State
University and from there moved my family across the U.S. to attend University of Kentucky College of Dentistry. After dental school, my wife and six children moved to Idaho to begin practicing dentistry. Although my family loved Idaho, we always wanted to be back in warmer weather. This brought us here to Las Vegas. A perfect place for my family since we love outdoor recreation such as hiking and Jeepin'.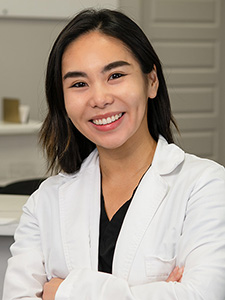 Dr. Jessica Fickman
Orthodontist
Born amidst the vibrant greenery of Southern China and raised in the multicultural melting pot of Los Angeles, Dr. Jessica Fickman is a driven orthodontist marked by her exceptional leadership, a fervor for her community and a vibrant zest for life that echoes through her manifold interests. After completing her Bachelor of Humanities in Psychology and Fine Arts at Carnegie Mellon University, she took a leap into the world of dentistry, earning her Doctor of Dental Medicine from the University of Pittsburgh School of Dental Medicine, graduating with array of distinguished honors. She further enhanced her qualifications by undergoing a rigorous Orthodontic residency at the Roseman University of Health Sciences, where she also earned a Masters in Business Administration.
At the heart of her professional ethos is a deep understanding that every patient is unique. This appreciation allows Dr. Fickman to establish genuine connections with her patients, built on the pillars of clear communication and reciprocal trust. As an orthodontist, she strives to deliver the highest quality of care, catering to each patient's individual requirements. The joy of creating life-altering smiles, guided by both her artistic vision and an informed treatment philosophy, continually rejuvenates her passion for orthodontics. Dr. Fickman's unwavering dedication extends beyond her professional life, as she invests significantly in her community, championing a myriad of service initiatives that have a positive impact on the lives of others.
Beyond the scope of her demanding career, Dr. Fickman seeks respite in a kaleidoscope of hobbies. She adores her two cats, Marlowe and Porthos, and cherishes spending quality time with her family and friends. A self-proclaimed food aficionado, she enjoys cooking and discovering new restaurants. Traveling, film and photography, exploring diverse music genres, and hunting for one-of-a-kind treasures during her thrifting and antiquing escapades also rank high on her list of interests.